If you are looking to facilitate writing in your courses that is more reflective, iterative, interactive, and media-rich than more traditional writing assignments (such as essays and papers), blogging can be an excellent way to go. Through the USask Sites platform, it is possible to get each student in your class set up with their own WordPress blog. This post will cover how to set these up for your students, and then arrange for syndication of student blogs into a central class blog roll.
Did you know? This site was built using WordPress!
For more information on WordPress and what it can offer, visit the USask Sites home at:
https://sites.usask.ca/
Before doing this, you should have already got in touch with DEU (via deu.support@usask.ca or through this webform) and told them that you are wanting to set up blogs for your class; they will assist with setting up a WordPress home site for your course. This home site can serve as the "blog roll" that uses syndication to republish the blog entries from your student's blogs, and collect them all into one place (i.e., it makes a copy of the students' blog on your site, while linking back to the original blog entry on the student's site). If you haven't contacted DEU yet, please do this first!
How to Set Up Blogs for Your Class
1) Request blogs for all students. 
You will need to pull a list of enrolled students and their NSIDs from your Canvas course. Via the "Grades" area of your course, you can download a list of your students to a CSV file that can be opened up using Microsoft Excel. Follow the directions here: How do I export grades in the Gradebook? 
Note: The spreadsheet file will contain student information on all Graded activities in the course. At the start of your course, there should not be any real content there, but if you prefer you can delete all of the columns except for those labelled "Student" (i.e., their names) and "SIS Login ID" (i.e., their NSIDs).
When your CSV file is ready, send the list to
web@usask.ca
along with a request for WordPress blogs for your students
. Ask them also to reply with a list of the blog URLs (a unique one for each student in your class).
This step should be done early in the course, but you might need to send additional requests for students who are late to register for your course.
2) Communicate with your students.
Once blogs are set up, send an Announcement to your students telling them to access their blogs from the login at https://sites.usask.ca/user by using the NSID login information. Once logged in, they will find their blog under "My Sites" in the upper left-hand menu, and can start posting their blogs.
3) Populate the syndication list.
Syndication is set up on your WordPress home site via the following steps:
a.) Log in to your home site. The URL to access the login is https://sites.usask.ca/user (login with your NSID). Once logged in to the network, go to "My Sites" in the upper left-hand menu, and find your home site in the dropdown menu. Click to enter the "Dashboard" for that site.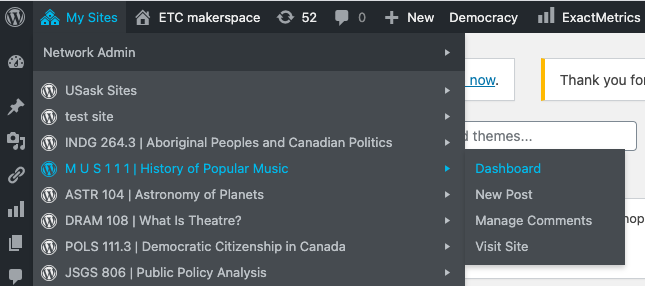 b.) From the Dashboard of your specific site, go to the left-hand menu, and under "Syndication", click on "Syndicated Sites."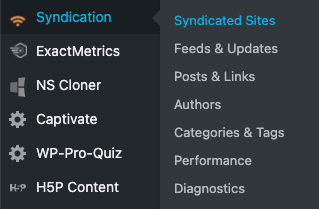 c.) On the right-hand side, click on "add multiple."

d.) Enter the student blog URLs (e.g., https://words.usask.ca/nsid123) to the text box. You can copy-and-paste multiple URLs from the list you have received from ICT. When they have been entered, click "Add".

e.) Finally, with the boxes checked on the blogs you wish to add, click "Subscribe to selected sources."
You should then see the full list of blog feeds that have been added to your site for syndication. You can also unsubscribe from blog feeds on this same page, and probably will want to do that at the end of the term.
Blogging Frequently-Asked Questions (FAQ)
Photo by Suzy Hazelwood from Pexels