Student Voice and Choice: Co-Creating Choice Boards 
By Racquel Biem, Educational Development Specialist, Gwenna Moss Centre for Teaching and Learning
Co-creating a list of potential assessments with students is a great opportunity to increase student voice and choice. Students who choose assessments that are personally relevant are more likely to be motivated, engaged, and take ownership of their learning. Giving students a choice and voice in assessments allows them to demonstrate their understanding of the material in ways that are meaningful to them. 
Choice Boards 
A choice board is a is a grid or chart that provides students with a set of options to meet learning outcomes.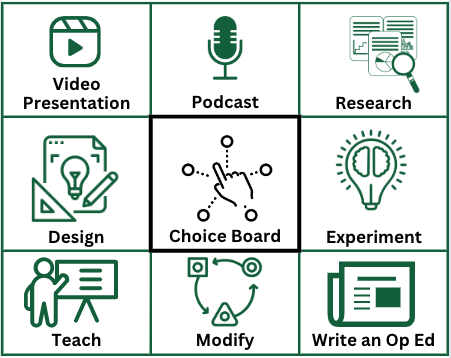 Choice boards can be used in many ways, depending on the goals and outcomes in the course. For example, a choice board may include a range of activities such as reading a particular book, drafting a report, creating a presentation, making a video, or engaging in a discussion. Students may be required to complete a certain number of activities or may have the option to choose which activities they want to complete. 
Note that it is not expected, nor reasonable, for instructors to know all the processes students might use to create their assignment. For example, if a student chooses to create a video presentation, the student should already know how to create a video presentation or want to invest in learning how to do so. If the student does not know how to use video software, they may want to re-think their choice. 
Below is a description for how to co-create an assessment choice board. 
Step 1: Present the students with an outcome(s).  
Step 2: Give students 5 minutes to brainstorm as many ideas as possible for potential evidence of meeting this learning outcome. This can be done on a shared learning space, such as an open Google document, so that all students can see other responses.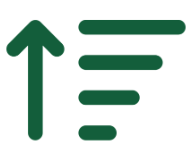 Step 3: Have students sort the list by quality, placing the options that meet the depth of the outcome at the top.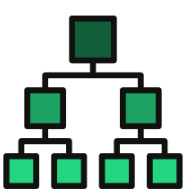 Step 4: Have students cluster the quality options into groups of equitable size and depth of learning. When creating choice in assessments it will be important to consider equitable options in terms of estimated time and depth of learning. Not all choices presented in the brainstorm will be equitable in terms of the time and depth of thinking required. 
Step 5: Thank them for their input and use their brainstorming ideas to create a choice board. Of course your own options, if not mentioned by the students, can be included on the choice board.  
Supporting Student Self-Assessment Skills 
Providing students with voice and choice in their assessments is only one step in the student-centred learning process. Students will also need support in building self-assessment skills (commonly referred to as meta-cognition) such as setting goals, self-monitoring those goals, consistently and accurately self-assessing their learning, and making connections to prior learning. Below are two strategies for supporting student self-assessment skills. 
Outcome-based descriptive rubrics. Ensure clear learning outcome criteria, such as descriptive rubrics, for the outcomes are available at the start of the course. Regardless of the choice in assessment, if they are all measuring the same outcome then the same or similar descriptive rubric can be used for multiple types of evidence. 
Providing opportunities for practice and feedback on their self-assessment skills during class. The more time you invest early in giving students time to practice and build confidence in their self-assessment skills, the more students will be able to successfully lead their learning. 
Reflection 
How might a choice board be supportive of increasing student voice and choice in your classes? 
How might co-constructing a choice board with students support the USask Assessment Principles, particularly with developing student's ability to learn effectively and prepares students to be self-directed, reflective, and engaged learners? 
How might you use reflections on learning as assessment?
Support
For more support in increasing student voice and choice, supporting student self-assessment, or writing descriptive rubrics, please reach out to the Gwenna Moss Teaching and Learning Centre. 
Related Educatus Posts
Using Reflections on Learning As Assessments
Increasing Voice and Choice in the Classroom 
Sources 
Chen, C. H., & Yang, Y. C. (2019). Revisiting the effects of project-based learning on students' academic achievement: A meta-analysis investigating moderators. Educational Research Review, 26, 71-81. 
Hämäläinen, R., Kiili, C., & Smith, B. E. (2017). Orchestrating 21st century learning in higher education: A perspective on student voice. British Journal of Educational Technology, 48(5), 1106-1118. 
Seale, J. (2009). Doing student voice work in higher education: An exploration of the value of participatory methods. British Educational Research Journal, 36(6), 995-1015.