Guest blog by Dr. Anurag Saxena, Associate Dean, Postgraduate Medical Education
In this guest blog I wish to highlight the impact of COVID-19 on residency programs—particularly on residents. Imagine a resident who has just finished an overnight call after a day's work and is called back to provide coverage because other colleagues are either sick, or have tested positive for COVID, or are not available for other reasons. Or, imagine a resident who could not complete a critically important learning experience out-of-province because of travel restrictions and now may not complete residency on time. These stories are real and true for many residents.
Since the beginning of the pandemic nearly two years ago, our residents' well-being and learning have been adversely affected. In addition, increased demands for clinical care—sometimes beyond their residency programs—have been placed on them. This has meant navigating turbulent changes to their residency, including reduced access to some learning experiences (e.g., reduced opportunities for procedural competencies and off-service rotations, and canceled mandatory and elective learning experiences), uncertainty around national examinations, concerns about on-time completion of their residency, and licensure.
At the same time, they were asked to engage in increased provision of clinical care within and beyond their programs (additional work, increased and back-up calls, re-deployment) while also working through the system of ensuring personal protection (PPE, vaccination). The adverse impact on personal well-being is hard to assess, but it has been immense when you consider areas like personal risk, and negative impact on physical, mental, emotional, social, financial, environmental, occupational, and spiritual well-being. These impacts were experienced while adjusting to pandemic-related, external and required measures. I am sure every resident has at least one story they are likely to pass on to the next generation!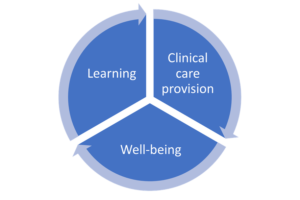 Throughout this period, our residents have demonstrated courage and empathy in caring for patients,  while engaged in their own learning and bravely attending to their own well-being. It has not been easy and we cannot count on individual resilience alone—and we know that.  Our residents have told us that their primary level of support comes from within their own residency programs, followed by the PGME office. We will enhance our efforts in our programs and through work with individual residents to ensure we provide meaningful, proactive measures and responses that are based in care and concern.
Although the number of COVID cases in Saskatchewan is on the decline, we are not out of the woods yet, and other pent-up demand will need to be attended to. We are all in this together and this is not the time to give up. When the intensity of the work decreases (we hope soon!) and possibly an easier pace can be achieved, there will be more time to assess the impact of the damage to well-being. This will be a high-risk period when it will be critical to look after ourselves. We all need to reflect and heal and not succumb to the accumulated stresses of these incredibly challenging years.
The responses from our people at various levels—programs, sites, central academic and administrative units, senior leadership, internal and external stakeholders—have been stellar examples of acting with thoughtful stewardship. Under the most trying of circumstances, the agile reactive responses and pre-emptive efforts to stay ahead of demands and challenges in healthcare and residency training sometimes involved changing course, while at other times it was necessary to hold steady as we went through severe turbulence.
Thank you to our program leaders (program, site and associate directors), administrators, department heads, and CBME personnel (Competence by Design leads, Curriculum Committee chairs and members, and academic advisors) for your remarkable efforts in holding the course. Our program leaders have ensured training was delivered through: innovations, utilizing non-clinical learning experiences and COVID and patient-oriented research; on-time completion of residency; and flexible approaches to manage challenges related to redeployment.
The transition to virtual care and virtual learning, and increased use of simulation, has not been easy and continues to be refined. The high intensity work involved in the accelerated CaRMS match process is worth noting. Our postgraduate program directors and program admins ensured fairness of the selection process while adapting to virtual interviews and compressed timelines. No one has buckled under pressure. The courage demonstrated in holding the line on protecting residents from excessive clinical demands speaks to true, people-oriented values and the need to integrate the dual aspects of patient-centeredness and learner focus.
The educational offerings from the central PGME office have continued. We have deliberately looked after: refining the programs to meet needs; improving the rigor of the virtual boot camp for new residents; our quality improvement program; RAPID program; referral program; and the recently adopted TIPS program. Further, the PGME team is working on expanding and increasing the relevance of program director and program administrator workshops and chief resident workshops.
Some leadership aspects have been essential to our journey through this. The senior leadership (both academic and administrative) at the College of Medicine (CoM) has been immensely supportive, trusting and proactive in ensuring work for long-term vision. The changes to policies and flexible approaches to affect systemic aspects (increased funding especially for well-being supports, including but not limited to counselling, and food while on COVID-related call), carryover of leaves and vacations, payout of unused vacations/leaves) were possible only with the trust and support of the senior leadership at the CoM and Saskatchewan Health Authority (SHA). The leadership at Resident Doctors of Saskatchewan (RDoS) and the joint work between RDoS and PGME has been an example of purposeful collaboration and unearthing that our interests are same. The collaborative work with the College of Physicians and Surgeons of Saskatchewan, the SHA, and the national colleges has been instrumental in managing risk, adapting to situations often in a very short timeframe and ensuring public accountability. The support and decisions from the Ministry of Health, the primary funders of PGME, have been timely, agile and undergirded by care and compassion.
Throughout, we have also managed to steadfastly hold our long-term focus for postgraduate medical education in Saskatchewan, as well. I will provide more details of that important work in a follow-up guest blog early in the new year.