by Manish Ranpara
Distributed Medical Education (DME) is the concept of diversifying the experience of students across cultures, communities, borders and hearts. Yes hearts – it is an addition to the definition that you will not find anywhere but it is arguably the most important.
The parts of medical education: The head represents education, the heart represents formation, and the hands represent training.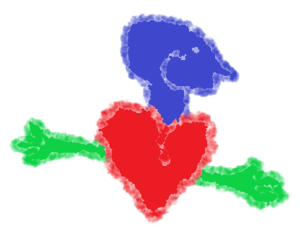 The benefits of students gaining different experiences during training are multiple. Canada is a vast and has a heterogeneous population with different needs. Training learners in remote communities teaches them about the needs of the communities and how they can be better addressed. The knowledge can be passed on and be used to improve the health of the local population.
In the special edition of CMEJ, Brown and colleagues describe an innovative program, where theatre was used to advocate the needs of the local homeless population and educate healthcare professionals. DME allows for a greater immersion and therefore appreciation and understanding of local healthcare needs in underserved areas, and this can result in the learner gaining valuable clinical and non-clinical skills. The medical program at the Northern Ontario School of Medicine (NOSM) is one of Canada's success stories for DME. Strasser and colleagues tell us how community engagement is crucial to the university's socially accountable curriculum. They explain the various hats of community engagement at NOSM such as participation in the medical student admission process.
Medical students often do not know which specialty they would like to enter. Gaining varied experience through DME helps budding clinicians make more informed decisions about future career choices. However, there is an argument that students placed in remote regions do not get adequate exposure to some medical specialties and "cutting edge" innovation because these tend to be more centralized in urban areas. Jattan et al. elaborate this issue further in the special edition of CMEJ. They found family medicine residents in rural locations had fewer teaching opportunities than their urban counterparts. This can potentially hinder and discourage residents and physicians with an interest in academics pursuing a career in rural Canada.
DME has many benefits, and all medical universities in Canada integrate DME in their curriculum to some extent. The social accountability of the medical profession has gained significant momentum in recent years and universities are on board to train physicians today to address the needs of Canadians today and tomorrow. Several steps have been taken to bridge the gap for example more money has been invested in recruiting and retaining rural physicians and training programs have been revised to be more socially accountable. Still, plenty of work needs to be done as several regions and communities within Canada lack ample healthcare professionals, and health inequalities remain unacceptably high. What else can be done to address the needs of underserved communities?
Dr. Manish Ranpara trained at Cardiff University, UK. After working as a doctor for 2 years in England, he immigrated to Canada. He was involved in research at the University of Calgary, and he is currently a family medicine resident affiliated with the University of Toronto. You may find him in an exercise class, reading a classic,  or singing his heart away (earplugs not provided).