The Amalgamation Question
Darcy Overland
From the time the first credit union was formed in Saskatchewan in 1910, 380 individual credit unions were incorporated. Today, there are 44 (SaskCentral). Co-opertives and credit unions usually start out small, serving the needs of geographically defined members. The power and appeal of the credit union is in locally-based decision making and connection to the local community. When credit unions have been in existence for multiple generations, the communities change, economies change, and environments change. The board is tasked with ensuring the credit union is sustainable both today and in the future. Can credit unions that were formed under different circumstances continue to provide quality services to their members in their new realities? When does the amalgamation question arise?  
Many credit unions find themselves looking to join with another credit union to achieve economies of scale, improve service provision, or meet regulatory requirements. However, there is a real fear that the locus of decision-making will be removed from the community that the credit union was set up to serve. When two similar sized credit unions amalgamate, they may approach the table with equal decision making power, reducing that fear. But what about when a small credit union joins a large one and there is a power imbalance? In either scenario, the board members are faced with a difficult decision that rests on their vision of the future and what they will be required to ensure sustainability in those environments.
At the SaskCentral AGM held last month in Saskatoon, one delegate got up to thank the room and acknowledge that it may be her last meeting, as her credit union had decided to amalgamate with a larger credit union. Her remarks brought insight into the discussion around amalgamations at her credit union, and the decision ultimately made at the board table. She has agreed that we can share them with you below.
Good Morning –
It seems like a long time ago (somewhere around the year 2000) that I came to my first system meeting of all the credit unions in our province, and this may very well be my last. As you may or may not know, our credit union is amalgamating with another credit union as of January 1, 2019.
First, I wanted to thank all of you for allowing me to express my opinion over the years. I've always believed that if you let your voice be heard, the size of your Credit Union is irrelevant as long as you express your opinion in a constructive way. System-wide meetings have provided me with opportunities to learn, create new ideas, meet new people, emcee, sing, dance and even play air guitar. There have been many great ideas that I've brought back to my Credit Union board table that made us better. They weren't mine, but were learned at these meetings from all of you, and I wanted to say thank you for all of that.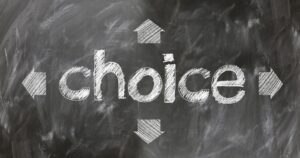 How difficult is it to come to the decision to amalgamate with a larger credit union, the decision that a Credit Union that has been part of your community for more than 75 years needs to make that change?  It is one of the hardest governance decisions that a board will ever have to make. As board members we knew that our job was to learn from the past, and monitor the present, but ultimately to predict the future using all of the resources at our disposal. 
How did we get there? How did we get comfortable with the fact that we were forever changing the name of something that had been founded by our ancestors two or three generations before us – and be okay with that?
As a starting place, our board listened. We reached out to other credit unions, we participated in the system, attended conferences, meetings, and events outside our credit union. Our board knew we had to gather knowledge and have resources and relationships that we could call upon for information, and even advice.
We began to realize that the only way that we could have a chance to predict the future was to actually look to it and involve the future in our discussions and research. So we engaged our junior board members in our discussion – we listened to them and they fully participated in the process. And as we looked to the future, we kept coming back to a comment made by one of our junior board members (whose father was known to many of you as a long time Board Member and Associate Delegate). Our junior board member told us there were 18 people in her Grade 12 class and 17 of them were going to pursue post-secondary studies. Because of our geographic location most of these young people would be leaving our community to pursue their education. Many of them were intending to come back but she stressed the importance of maintaining a relationship with them while they were gone. 
We were reminded that the future generation holds the world in their hand – both literally and figuratively. And our credit union had the ability to maintain a relationship with these students just starting into adulthood, with our future members, but not in a way that was convenient for them or in a way that met their expectations. It was likely they would build a relationship with another financial institution during the time they were gone, and that may be the one that would provide them what they needed in an financial institution for the future. We knew that what they wanted was not what we were capable of currently delivering. We had looked around the system, and we had evaluated the options and felt that we could deliver it in the future, but not without change.
When you get to that point, when you realize that what you are delivering will not meet the needs of your future generation, and that your credit union does not have the size needed to provide those services, you start to view the 75 plus years of tradition in a new light. You see it as a strong foundation that was laid to build the future upon. You see it as the vision it was, that the people had built a credit union in your community to be utilized for much more than one or two generations.
When you get there, you know that you are on the right path as long as you treat that foundation and the members that built it with the respect it deserves. Our boards need to ensure our credit unions  continue to provide excellent service, while managing changes for the members that built our credit unions and adapting to service the needs future members simultaneously. In fact, that's why it took so long to build that foundation, our founders wanted the credit union they built to be broad enough to accommodate the past, the present, and the future.
We all have our own unique foundations and current realities. That's really what makes us Credit Unions. As board members, we have to take the knowledge that past has produced, talk to the members in your present, and understand and adapt to the future you think is coming. For us, and for our members, that meant amalgamation. The decision was not easy, but for us, it was the right one.
No amalgamation discussion is an easy one. There is a trade-off between efficiency of service and a potential loss of autonomy. Depending on how board members see the future for their credit union, they may come to different decisions on what the right path is for their credit union.
For other writing on the topic of amalgamations and governance in credit unions:
Hansen, D. (2014) "The Urge to Merge," Enterprise Magazine.
Fulton, M., Fairbairn, B., Pohler, D. (2017). Credit Unions in Canada: Design Principles for Greater Co-operation. Centre for the Study of Co-operatives, University of Saskatchewan.
If you find our blog useful, please add our link to your website.