Are there times when you'd like an alternative to reading your course materials on Canvas?
The Immersive Reader in Canvas can help you access your course materials by reading the text aloud to you.
The Reader might be helpful if you:
would use text decoding for a Learning Disability
have a medical disability
use English as an additional language
could benefit from the text to speech function to

reduce screen fatigue
allow for flexibility of movement
take in information by listening
The Immersive Reader button, at the top right-hand of Pages, Assignments, the Course

Home Page and Syllabus page, provides a ton of functions to assist readers.
When you click on the Immersive Reader button, you'll see your options on the right side of the screen. For example, to hear the page text read aloud, click the Play button [1]. To adjust audio settings, click the Voice Settings button [2].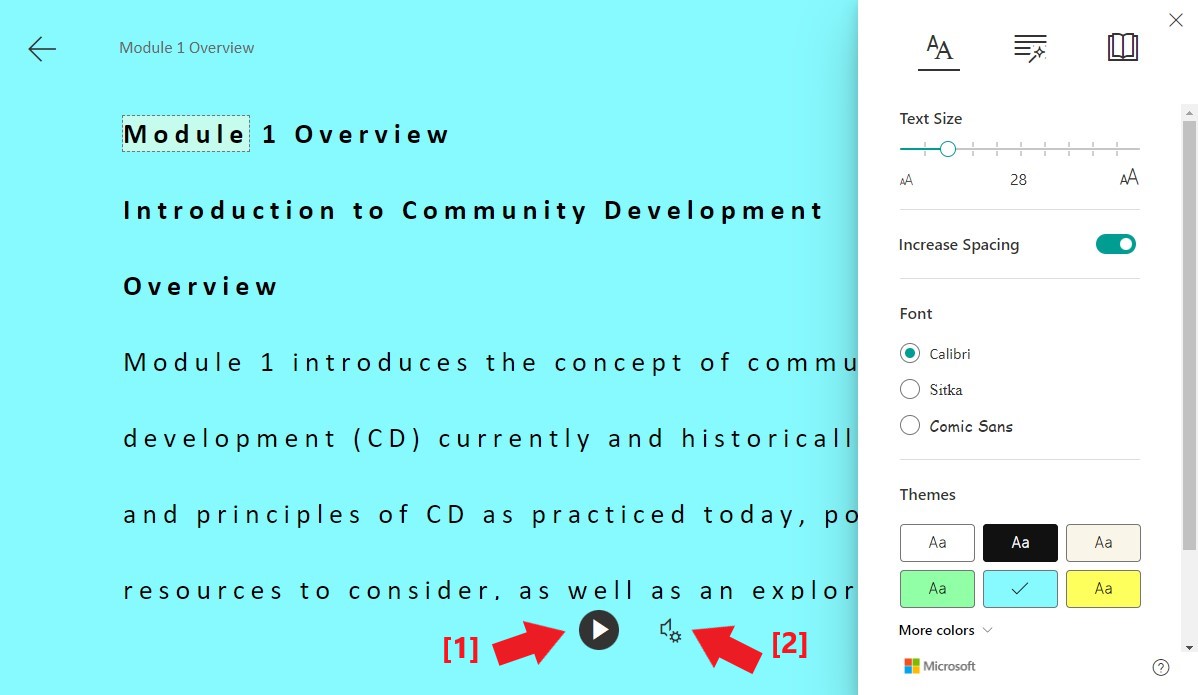 What can the Immersive Reader do?
Read and show text, in one of over 100+ languages, with adjustable speed and voice, all set by you
Allow enlarging of text size and spacing, changes to font and background colour and highlight lines for greater focus
Identify parts of speech and show syllables
Focus in line-by-line on the text
Providing your instructor has embedded their materials in Canvas, these functions can help you to access the details and concepts you need and allow you to choose how to access the materials. This video highlights Microsoft's current Immersive Reader functions in Canvas.
Need a quiet place to study?
 The USask Study rooms & seats are open for bookings in advance here: https://libcal.usask.ca/reserve/murray
For more support options with Canvas, see the USask Student Canvas page.
We acknowledge that the University of Saskatchewan's main campus is situated on Treaty 6, traditional Nehiyaw territory, and the Homeland of the Métis. We pay our respect to the First Nations and Métis ancestors of this place and reaffirm our relationship with one another.