by Virginia Wilson
Director, Centre for Evidence Based Library and Information Practice
For almost 3 years, the Centre for Evidence Based Library and Information Practice (C-EBLIP) has been supporting librarians at the University of Saskatchewan (U of S) as researchers and promoting evidence based library and information practice (EBLIP). This spring, we launched the C-EBLIP Research Network, an affiliation of institutions committed to librarians as researchers and/or interested in evidence based practice. The Network is conceived of as a supportive intellectual space supplemented by concrete activities. A 2-year pilot, granting institutional membership to the C-EBLIP Research Network, is kicking things off on a national and international level.
When I look at what we've achieved internally here at the U of S by getting librarians together for such things as the C-EBLIP Journal Club, Writing Circle, Code Club, the C-EBLIP Fall Symposium, and even this blog, I can't help but wonder what we might achieve if we extend the participation, the collaboration, and the sharing. And so, the C-EBLIP Research Network is designed to facilitate all of those things within a global context (we go big or we go home).
An institutional membership in the C-EBLIP Research Network is primarily for the benefit of librarians within that institutions who are actively engaged in research and/or evidence based library and information practice. Becoming an institutional affiliate member of and signing a Memorandum of Understanding (MOU) with the C-EBLIP Research Network demonstrates that the larger institution supports the librarians' growth in these areas. Institutions can be multi-sectoral (i.e. universities, public libraries, schools, special libraries, research groups). A $250CAD yearly membership fee will be reinvested back into C-EBLIP Research Network programming, i.e. webinars, research grant, etc. Librarian contacts from each institution will act in an advisory capacity to start with. The Network as it stands now is essentially a scaffold. Librarians at member institutions will have a chance to shape the Network in meaningful ways.
There are all kinds of networks out there: business networks, computer networks, telecommunication networks, television networks, even our nervous system is a network. One thing they all have in common is information exchange. The different nodes are all linked together to facilitate the movement and sharing of information. Just look at how many configurations there are!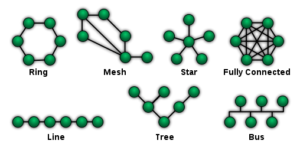 By NetworkTopologies.png: Maksimderivative work: Malyszkz (talk) – NetworkTopologies.png, Public Domain, https://commons.wikimedia.org/w/index.php?curid=15006915
So why a network? Why not another term such as association, partnership, alliance, consortium, or syndicate? Well, the last sounds a bit too much like we'd be up to no good. And the rest didn't seem to click. And why am I so fixated on these diagrams (I really am)? Novick and Hurley state that "a large body of research has shown that schematic diagrams […] are powerful tools for thinking"; however, "it is important to note that superior performance is only obtained when the display format and the structure of the environment are consistent" (2001, p. 160). The idea of a network, to me, speaks to a flat structure with no institution above the other. We are peers, practicing librarians involved in the research enterprise. And yes, there will be some librarians with more experience, or more experience in certain areas, but that's what makes the network a beautiful idea. In terms of conducting research as practicing librarians and incorporating EBLIP into our daily work, getting information from a variety of sources and sharing information in turn can assist us in many different ways. In their research, Novick and Hurley studied three schematic diagrams: the matrix, the network, and the hierarchy. Their descriptions of the network diagram are what we envision for the C-EBLIP Research Network:
• Any node (in our case, institution) may be linked to any other node (i.e. there are no constraints (p. 163).
• All of the nodes have identical status (i.e. are indistinguishable except by name) (p. 164).
• The links between nodes may be associative (p. 164).
• Any number of lines can enter and leave each node. Thus both one-to-many and many-to-one (i.e., many-to-many) relations can be represented simultaneously (p. 165).
(The above are just a few of the properties of networks, but they are the properties that speak the loudest to C-EBLIP Research Network configuration.)
So far, the C-EBLIP Research Network is alive and well and host to several institutional members including members from Canada and the UK. A list will be coming soon and our numbers are growing (hello, Australia!). If you are interested in joining the C-EBLIP Research Network or would like to know more, please do not hesitate to be in touch with me: virginia.wilson@usask.ca
References
Novick, L.R. and Hurley, S.M. 2001. To Matrix, Network, or Hierarchy: That Is the Question. Cognitive Psychology, 42, p. 158–216 doi:10.1006/cogp.2000.0746
This article gives the views of the author(s) and not necessarily the views of the Centre for Evidence Based Library and Information Practice or the University Library, University of Saskatchewan.