by Joanna Hare
Duke Kunshan University Library
Previously on this blog I have written about my love of Poll Everywhere. It is a fantastic tool for capturing student attention and sustaining engagement throughout a library workshop. For this post, I will share how we used Poll Everywhere at our recent Duke Kunshan University Library orientation sessions to capture student questions and convert these questions into social media collateral.
August 2018 was a very exciting time for Duke Kunshan University (DKU) – it was the month in which we welcomed the inaugural class of undergraduate students onto the campus and in to classrooms. During the intensive university-wide orientation program, the Library had a one hour session with students – just one hour, with over 250 students, on the second-last day of a two week orientation program for the very first undergraduate students at this start-up university – a daunting task! It was clear we needed to make the Library session easy to follow and engaging.
We quickly decided to use Poll Everywhere to make the session interactive and capture each student's attention. Rather than use Poll Everywhere as a way of testing their knowledge, we decided to use it as a means to 'surprise' students with information about the library. For example, instead of simply telling them how many books we have, we asked students to guess the number, and they were – dare I say – amazed at the size of our collection. Similarly, rather than just listing what types of online resources we have access to, we gave specific examples of a variety of resource types, and asked students to guess which resources they could access via the Library, as shown in the following screenshot: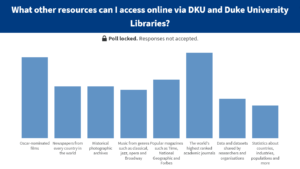 Usually at the end of any session we would allow time for questions. However, in this context where we wanted to maximise our time with the students, we elected to ask students to submit their questions via Poll Everywhere. In the last section students were asked to 'Please share any comments or questions you have about DKU Library'. We would then collect and review the questions and ask students to follow us on WeChat where we would be sharing the answers to their questions over the coming days.
We received 99 responses to the question. We did a quick and dirty analysis to identify some common themes and came up with the following general categories of questions/comments:
1. Using eBooks
2. Borrowing policies
3. Borrowing DVDs
4. Updating the collection
5. Study space and availability
6. Getting access to things students can't find/we don't have
We could certainly do a much more detailed analysis of the data we collected, but the goal was not to conduct "serious research", just to get a general picture of what students wanted to know about and use this information to create timely and useful WeChat posts, such as this one:

WeChat is particularly well-suited to creating groups of articles for this purpose, but this could also be replicated using a blog or perhaps LibGuides.
One challenge we encountered was that we were surprised at the number of questions we received, meaning we had our work cut out for us to quickly create the WeChat posts. This will be easier in future as we will be able to reuse some of the content from this semester, anticipate what will be asked in future sessions, and also adjust our teaching to make sure we don't overlook information that may seem unimportant to us but is of interest to our students.
Overall this was a simple but effective way of combining our goals of gathering student questions and feedback and creating social media content that was immediately relevant to their needs. We were pleasantly surprised at the number of questions we received – far more than we could have answered at the end of the orientation session. We will continue to use this method in future sessions.

This article gives the views of the author and not necessarily the views the Centre for Evidence Based Library and Information Practice or the University Library, University of Saskatchewan.