Teamwork makes the dream work.
Brette D. W. Kristoff, Graduate Student, Communications Specialist, GMCTL,        Feb.1, 2021
In your Canvas courses, instructors may have you work in groups for different assignments and tasks.
1) How do I find my group?                                                                                          Click on the Groups icon from your Global Navigation Menu to view the groups you are a member of. Select the name of the group to access the Group Homepage.
2) What is a Group Homepage?                                                                                       Each group has its own Homepage with a variety of tools for collaborating on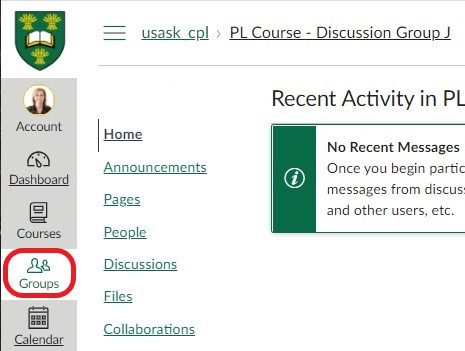 assignments, presentations, and projects. From the Homepage you can review the most Recent Activity within the group, or view/create group Announcements.
Only members belonging to the group (and your instructors and TAs) have access to the Groups Homepage and content. 

 To see who else is in the group, select the

People

tab.
3) What are Discussions and Collaborations used for?                                               From your Group Homepage, you can also access Discussions, Collaborations, and Files that your instructor may have set up for your group. 
Discussions allow you to participate in group conversations and discussions. Create a new discussion topic for your group by clicking the 'Add Discussion' button.
Remember that all group members have access to all group Discussions. To send a

private

message to a classmate or to your instructor, use the Canvas Inbox tool. 
Collaborations

allow you to create shared documents with group members. 
Files

will store all uploaded group content. Use the 'Upload' button to share documents and files for other group members to access. 
4) How do I view my group's Calendar?                                                                There are two ways to view your can view your groups' Calendars: 
Option 1: From your group Home Page, select the View Calendar link on the right side of the Home Page.
Option 2: From your Global Navigation menu,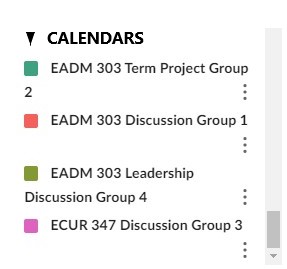 open the Calendar tab, accessible wherever you are in Canvas. The names of your Groups will be listed on the right side of the page under CALENDARS, at the bottom of the list. Each group needs to have a coloured square beside it, to be visible in the Calendar.
5) How do I join a 'self sign-up' group?                                                                 There may be a course requirement to join a 'self sign-up' group and participate in discussions and activities: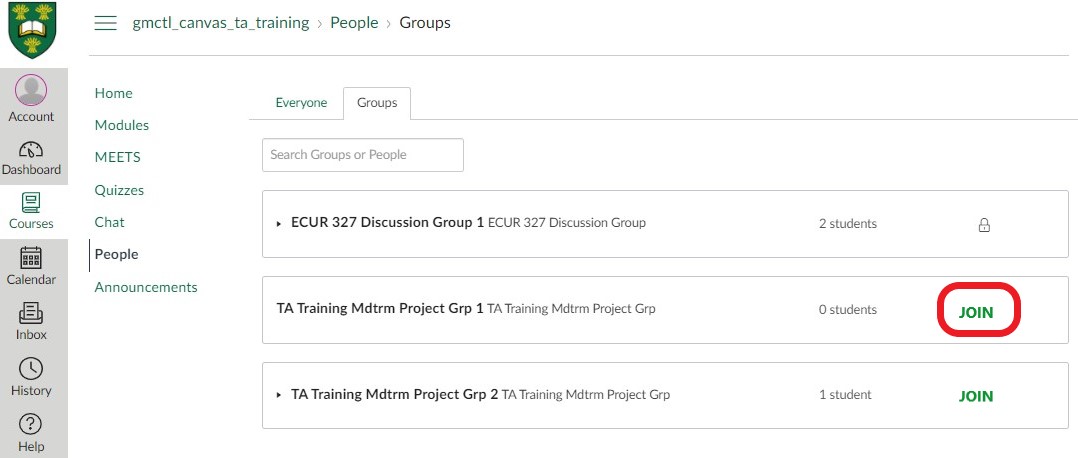 To join an available group, go to the People tab in your course, open the Groups tab. All available groups for this Course will be listed here. 
To join a group, click

Join

to open the group and add your name.

You may be able to 'Leave' to switch to a different group. Review the requirements for 'self sign-up' groups in your Course syllabus. 
6) How do I communicate with my group?                                                                Within Canvas there are several options for communicating with group members:
Option 1: Use the Canvas Inbox tool. The Inbox create a list of your groups so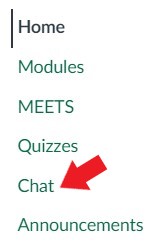 you can easily message all group members; or select individual group members or classmates from the drop-down 'To" menu when sending a message.                              Option 2: Start a new Discussion topic or contribution to on-going topics in the group Discussion tab. Remember all group members and instructors can access Discussions.                                                              Option 3: Your Course Chat allows you to DM (direct message) your groups members in a quick and casual way.                                                                          Option 4: From your group Homepage, you can add an Announcement to create Calendar events, messages, updates, or reminders for your group. 
We acknowledge that the University of Saskatchewan's main campus is situated on Treaty 6 Territory and the Homeland of the Métis. We pay our respect to the First Nations and Métis ancestors of this place and reaffirm our relationship with one another. 
For more support options with Canvas, see the USask Student Canvas page.