ProBono Students Canada has played a paramount role in my law school career. At the University of Saskatchewan's College of Law, there exists approximately 20 projects to choose from for the 2020-2021 academic year. These projects allow students to gain volunteer experience in a field of law that is of most interest to them.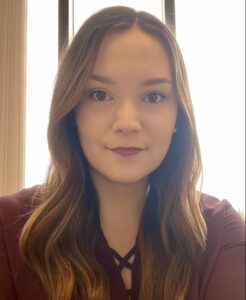 In my first year, I was placed with my top choice, the YWCA Survivors' Toolkit Project. Here, we researched the legal options available to survivors of sexual assault and the laws relating to sexual assault in order to develop a plain language presentation. This presentation was to then be presented to members of the community who were at a high risk of having been a survivor of sexual assault, or who were statistically at a high risk of being sexually assaulted. We learned from a local prosecutor who shared her experiences working in criminal law. This was an invaluable experience as she offered an honest perspective and helped us to manage our expectations when it came to the reality of the criminal justice process. Right before the pandemic halted our group work, my fellow volunteer and friend, JC Steele and I were lucky enough to have been one of the groups to proceed. We presented our findings to the Lighthouse Supported Living shelter in Saskatoon to a group of employees working with our target group. This was an overall incredibly insightful opportunity which improved my understanding of sexual assault law and it prepared me in working with sensitive subject matters.
In my second year I was again placed with my top choice, that being the Indigenous Law Centre's CaseWatch Blog. Here, I was assigned with one case a week to brief and summarize to be later published on the blog. Our supervising lawyers ensured that we gained strong legal writing skills and the opportunity to advance meaningful access to justice. My favourite part has been learning from all of the different fields of law relating to Indigenous Peoples, such as evidence law, Aboriginal law, Gladue principles, administrative law and human rights. This placement sharpened my legal writing skills and the ability to write concisely which in turn helped with my paper writing skills. Although it was conducted online because of the pandemic, we were never left with the sense that we were alone and I felt completely supported throughout.
I am endlessly grateful for the chance to volunteer with ProBono for the past two years and I hope to continue to do so for my third and final year of law school. These opportunities have allowed me to make meaningful connections not only with my peers but with local and established lawyers. I would highly recommend volunteering with ProBono. Specifically, I would recommend the two above-mentioned projects for eligible students. At the end of the day, the memories I have from my time with ProBono are unforgettable and I would have nothing further but good things to say about the organization and people that I've met along the way.
Note*
Tanisi. My name is Jodi Hancheroff and I am a proud nihithaw (Woodland Cree) woman from La Ronge, Saskatchewan. I am currently a second-year law student at the College of Law, University of Saskatchewan. I am mainly interested in pursuing Aboriginal/Indigenous Law. I am volunteering with ProBono Students Saskatchewan in partnership with the Indigenous Law Centre CaseWatch Blog and am looking forward to furthering my understanding of the law surrounding such issues.