Canmore's Rocky Mountain Outlook of 29th July 2015 has published an article profiling CH's current work on the Athabasca Glacier in Jasper National Park. The research, conducted within the framework of the Canadian Rockies Hydrological Observatory (CRHO), aims to obtain observations of atmospheric conditions close to the ice surface, which may in turn be related to rates of melting and retreat by the glacier. This will also permit comparisons to be made with conditions affecting other glaciers in the area, such as the already greatly reduced Peyto Glacier in Banff National Park, further to the south.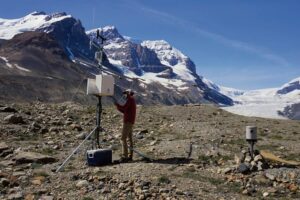 CH's Dr Jono Conway at the Athabasca Glacier
(Photo – Lynn Martell)
The article is available from the RMO site, here.