In this course, we have talked a lot about collaboration, and a theatrical production is truly collaborative in a fundamental way--it is co-labour--everyone working together toward a common goal. Usually when we see a play we tend to think mostly about the actors but it takes and entire creative team works together: designers, technicians, the playwright, the director, stage mangers, Front of House staff ,even the audience all help co-create the theatrical event we see on stage.
"The author, director, scene designer and actor must...resist every temptation to score personally. Each must make himself a free, transparent medium through which the whole flows freely without obstruction. No one at any moment can say, 'Ah this moment is mine.'"--Arthur Hopkins (Director) [Hopkins, Arthur. Reference Point. New York: Samuel French, 1948]
You may be surprised to see the wide variety of roles within the organizational structure of a theatre company. See fig. 7-1 to explore the structure of a theatre production.
Click on the figure below to enlarge.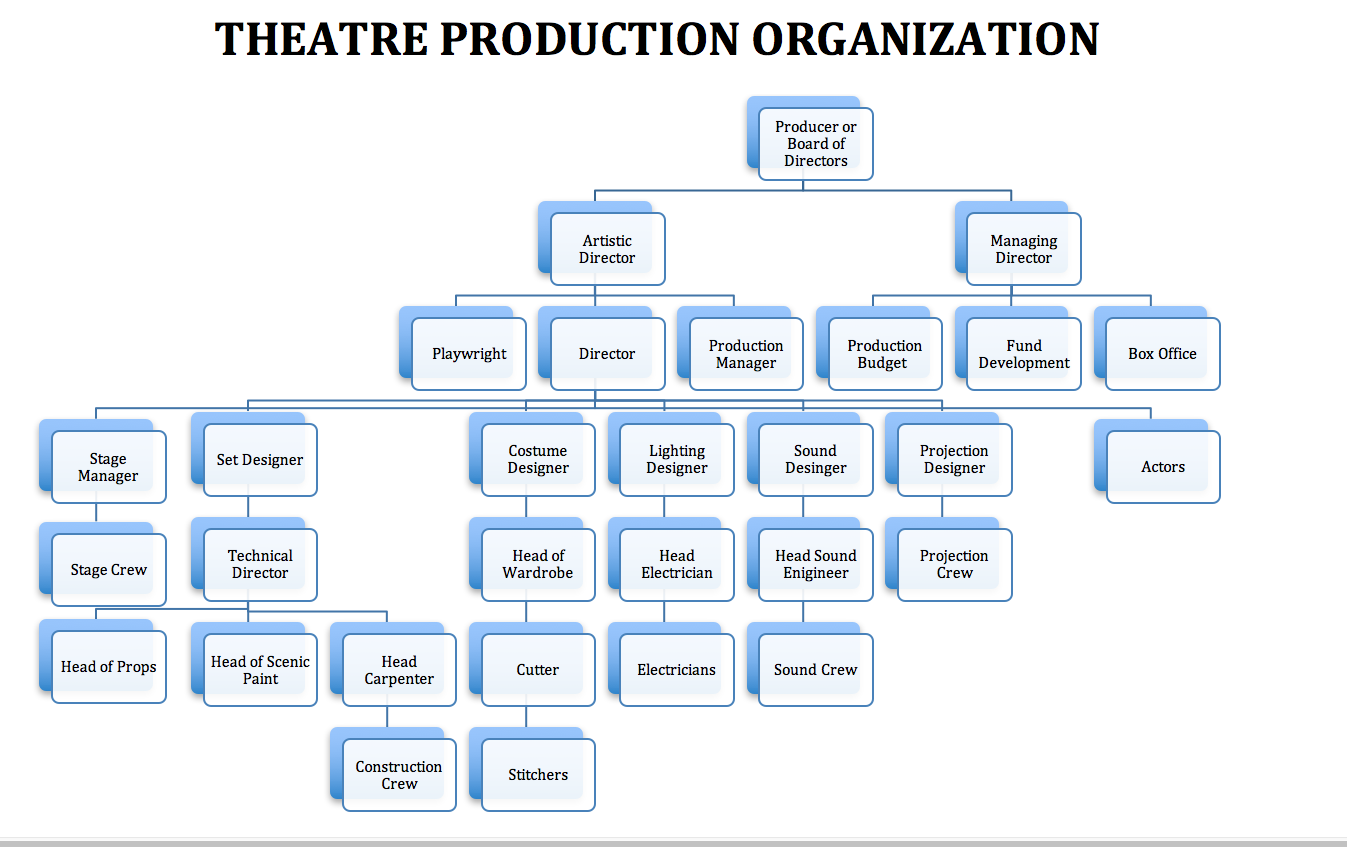 Let's take a look at a behind the scenes look at the National Theatre in London to begin to understand the complexity and diversity of roles and responsibilities that make up a major theatre company.
As you can see there's a lot more to putting on a production than what is seen from the front of the stage. Let's take a look now at just a few behind the scenes theatrical roles with the University of Saskatchewan Drama Department faculty.
You can explore more theatre company roles below by selecting videos of interest from the playlist below, published by the National Theatre.
Click on the Table of Contents button in the upper left hand corner of the video player below to select a video.