In this Issue: Creative Online Course Design Ideas
Group Member Evaluations with Canvas Assignments
100 Ideas for Active Learning
Bring Pressbooks Content into Canvas Courses with the Common Cartridge
Browse Through the DEU Digest Archive
DEU Support and Contact Information
---
Group Member Evaluations with Canvas Assignments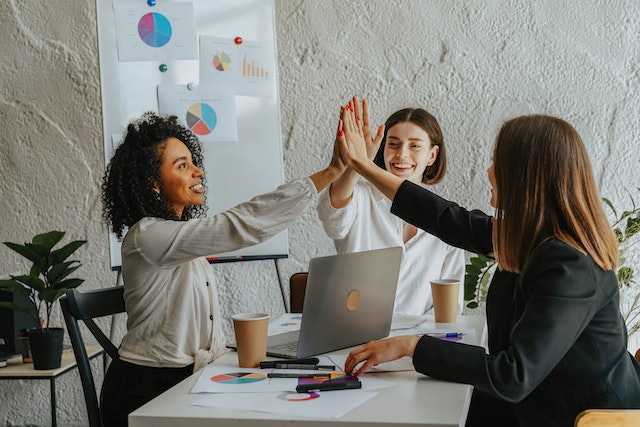 With fall term soon underway, you may be planning a group assessment for your online course. To ensure group work runs smoothly for everyone involved, you might consider integrating group member evaluations with the assessment.
Not to be confused with peer evaluations, group member evaluations involve those participating in a group evaluating their fellow members' efforts and contributions – typically with a rubric or scoring guide. The process can take place midway or at the end of a group assessment. Once group member evaluations are complete, they can be made available to both group members and the instructor, and the scores may be used to influence final grades.
There are great benefits to offering group member evaluations:
Helps motivate students to do their best work: Simply recognizing that individual efforts within a group will be evaluated can push students to do more, rather than rely on their peers to do the brunt of the work.
Flags participation concerns for instructors: When there are issues in a group effort, students won't always reach out to their instructor, especially in an online course. Building in the opportunity to flag issues will allow instructors to intervene, offer feedback, or adjust grades.
Shows students how to improve: Group member evaluations offered midway through a group effort can show individual members how they might improve their skills as a group participant, better ensuring an equal distribution of work by the time the group work concludes.
Wondering how this can be pulled off in Canvas? Well, there are two approaches using the built-in tools offered by Canvas, each with their own advantages and drawbacks:
1.) Online submission assignment with a form: Instructors can prepare an online submission assignment along with a simple document with a rubric or scoring guide for students to evaluate their fellow group members.
Advantages: This option is less work to setup. It also offers a greater amount of privacy because students cannot see their peers' reviews at all.
Drawbacks: Since students cannot see their peers' reviews, they will not know how to improve unless instructors manually distribute the reviews to each student.
2.) Peer review assignment: By taking some additional steps, instructors can offer an assignment with peer review that allows students to review their group members without making a submission. Texas A&M offers a video walking through this setup process here: Named Group Evaluations Using Canvas – Peer Review Tools
Advantages: If instructors build a rubric for the activity, students will have a more intuitive method of evaluating their peers. Reviews will also be available to peers without instructor intervention.
Drawbacks: Compared to a basic online submission assignment, this approach requires a lot more work to setup. Reviews will also not be anonymous.
Contact DEU (deu.support@usask.ca) if you need some help with setting up a group evaluation approach that works for you.
Photo by olia danilevich from Pexels
---
100 Ideas for Active Learning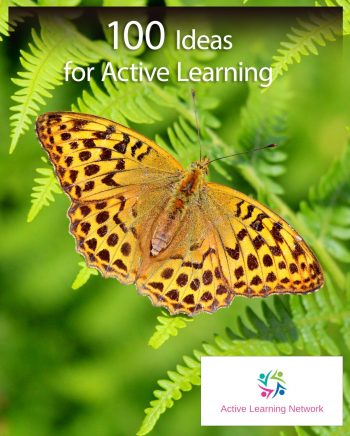 The DEU Instructional Designers regularly search for resources that help you teach and help students learn. The newly published open text 100 Ideas for Active Learningfrom the University of Sussex is a recent discovery. This resource is broad and deep in scope, spanning topics such as theory & curriculum design, inclusive communities, assessment, teaching, and digital enhancements. While most of the activities presented are for an on-site context, we believe many are also suitable for online classes. We have included just a few here that caught our attention:
Contact DEU (deu.support@usask.ca) if you see an idea presented in this resource and would like assistance adapting it for use in your online class. We will be happy to help you!
---
Bring Pressbooks Content into Canvas Courses with the Common Cartridge
Openpress.usask.ca is the open academic publishing platform at the University of Saskatchewan. Built upon Pressbooks software, it has been used to publish a number of adopted, adapted, remixed, and original open educational resources (OERs), including textbooks, manuals, graduate handbooks, and more.
One really cool thing about Pressbooks is the variety of Export options, allowing the authors to easily share print-ready PDF files and downloadable e-reader options with students. Another export option worth knowing about is the Common Cartridge with Web Links export type. This gives you a set of links to each chapter (or page) in the Pressbooks book that can be quickly imported into a Canvas module: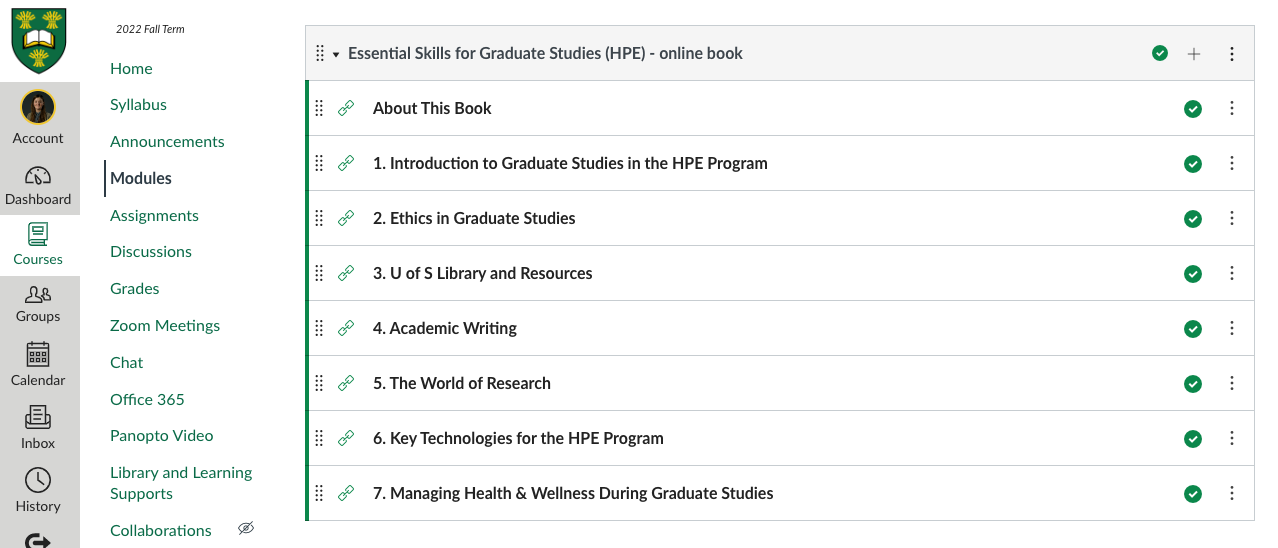 Why might you want to do this? Well, you can embed a page (or multiple pages) of Pressbooks content right into a specific point in a module. Learners see the Pressbooks material within an embedded frame and never have to "leave the confines" of your Canvas course, or the linear presentation of module material you have set up. When they click on each page, it looks like this, giving a "Pressbooks wrapped in Canvas" presentation: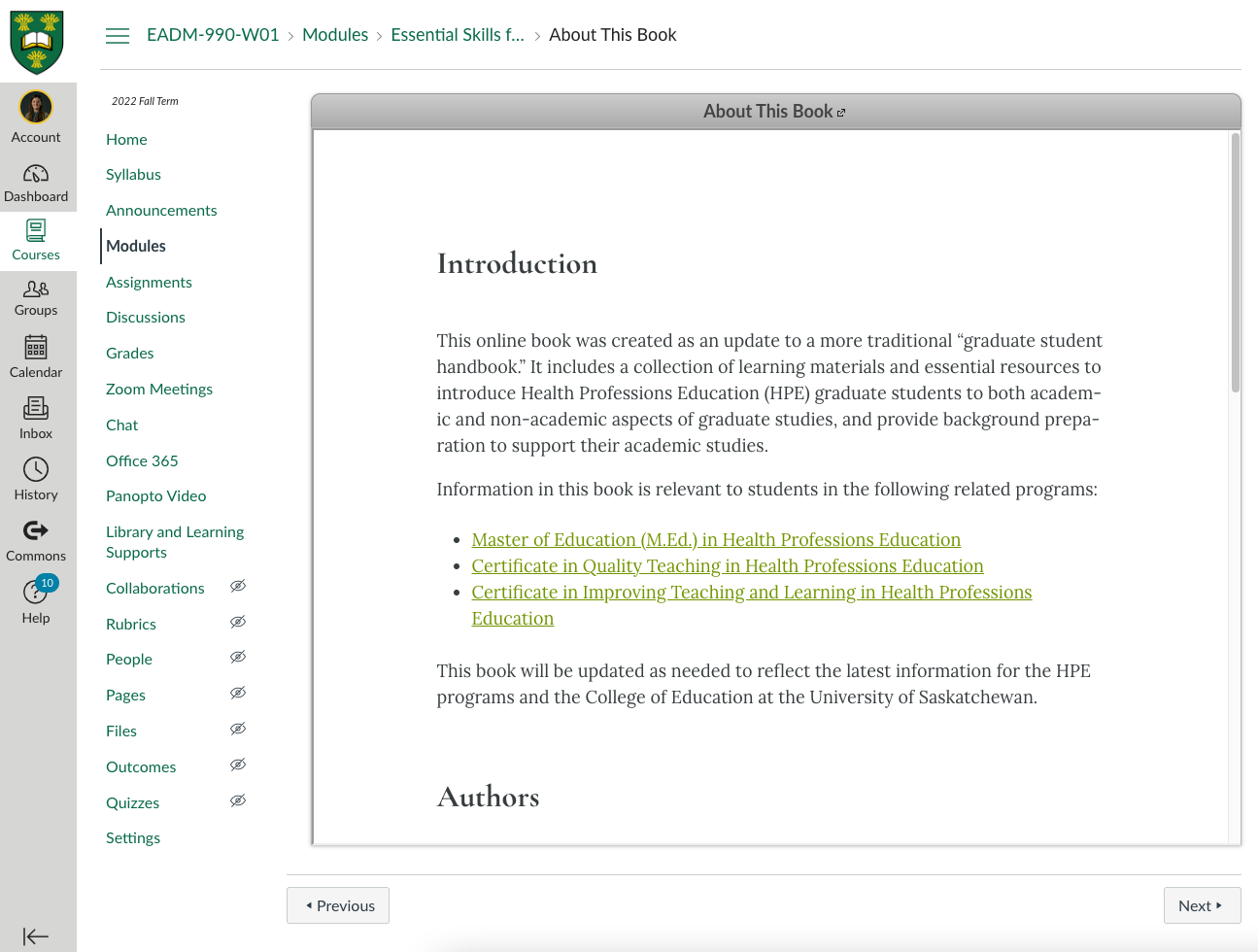 This is also a great option for shared content used across multiple courses or programs. You can embed identical Pressbooks content into multiple Canvas courses at the same time, and then any updates or corrections only need to happen in a single place; that is, if you update content once in Pressbooks, the change would then happen instantaneously in however many Canvas courses you've embedded the Common Cartridge links. Nice!
Pressbooks is available for all educators at USask to use. For more information about starting an open textbook project, please email open.press@usask.ca.
---
Browse Through the DEU Digest Archive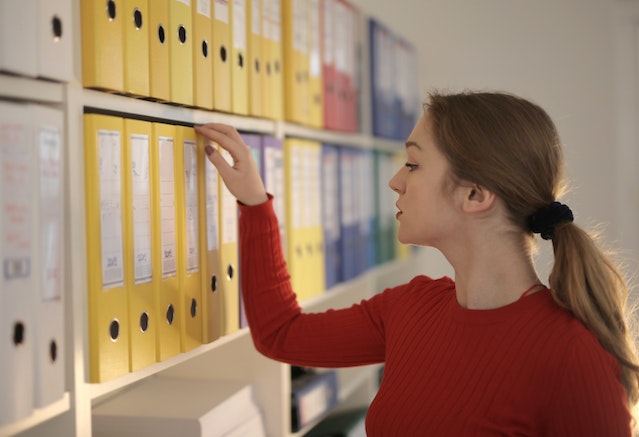 Did you know? The whole archive of past DEU Digest issues can be reviewed on the DEU Blog.
Take a look and use the "Categories" tags and search bar to find more info on all kinds of topics related to online teaching and learning, like:
Photo by Andrea Piacquadio from Pexels